One hundred times faster than Bluetooth, how to remotely push video picture APK to smart TV
One day, a friend asked me how to put a video downloaded from a computer into a smart TV at home?
Although smart TVs have been able to play a wide variety of videos online through the installation of corresponding APPs, sometimes they still need to be downloaded locally after playing on the computer for clarity or face some rare resources. In addition to video, sometimes we also want to A 50-inch or even 60-inch TV screen displays the family photos taken by the mobile phone; or you need to install some interesting application from your friend to your TV.
When we are faced with the needs of our own smart TVs and TV boxes for transferring videos, pictures or other files from mobile phones and computers to our daily life, we have not been able to use USB flash drives and data cables to make them better and more convenient. How is it? The answer is yes! The sofa butler remote installation function that many people neglect can meet these demands.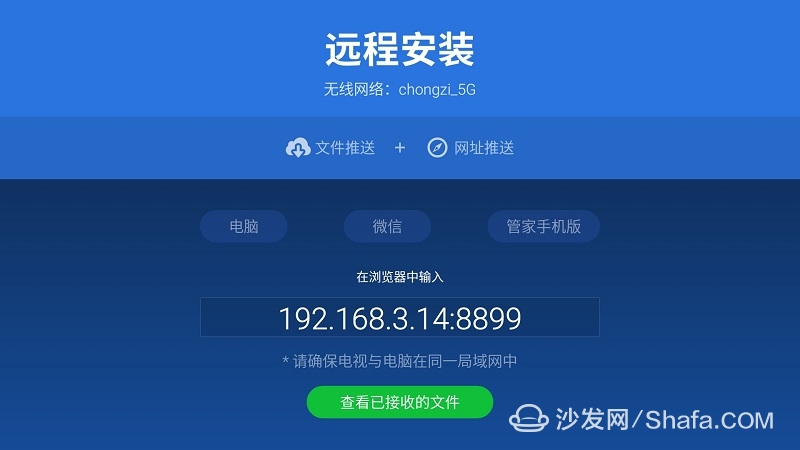 Open the order: sofa butler → toolbox → remote control
Mobile phones, computers can support, use the browser comes with it
To implement this feature, you don't need to install any extra applications for your phone or computer. You just need to put the ip address displayed in the remote control (such as the ip address of my home at 192.168) in the TV (or TV box) sofa manager. 3.14:8899) It can be remotely pushed by entering the address bar of a computer or mobile browser connected to the same router and opening it.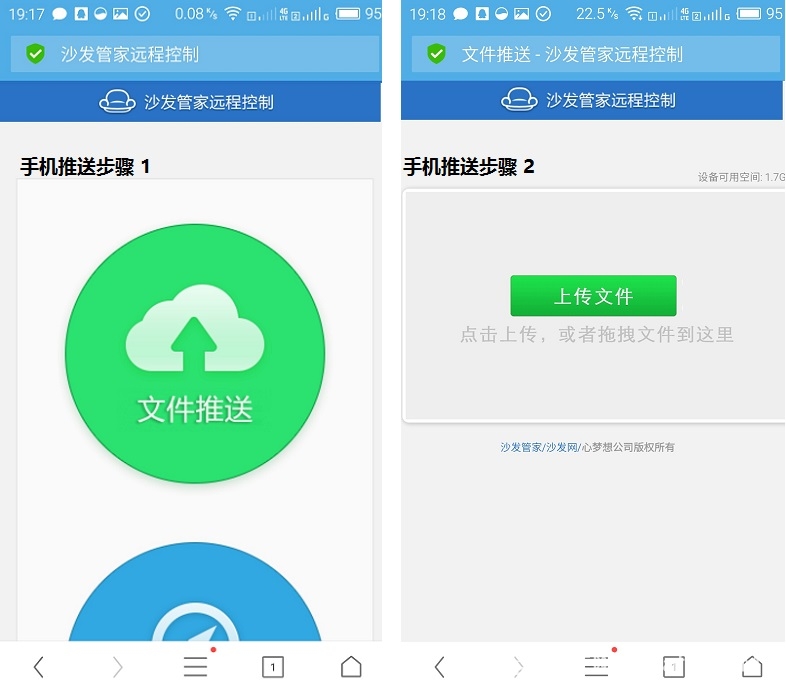 Mobile browser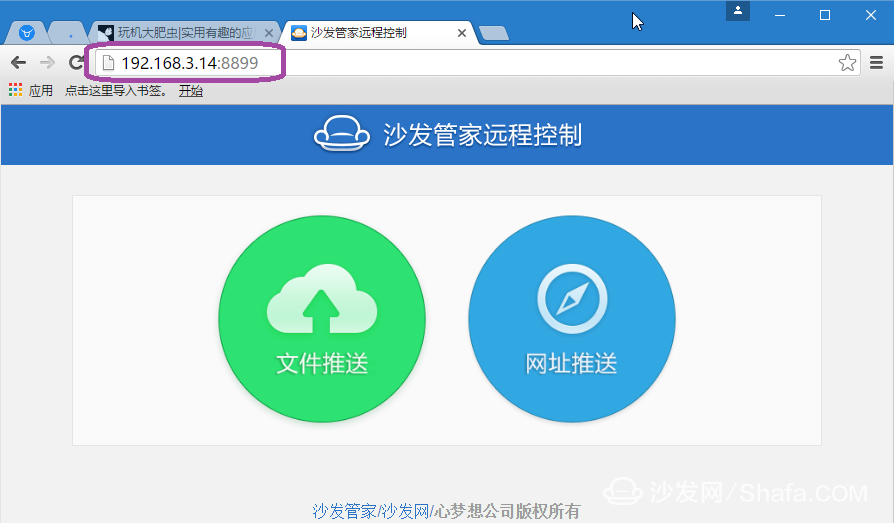 Computer Browser
If you are using a computer browser, you can select multiple files that need to be pushed and drag them to the browser with the mouse once. If you use the mobile phone, you can push one file at a time. There is no limit to the type of file that can be pushed, whether it be a video, an image, an APK file, or a variety of documents.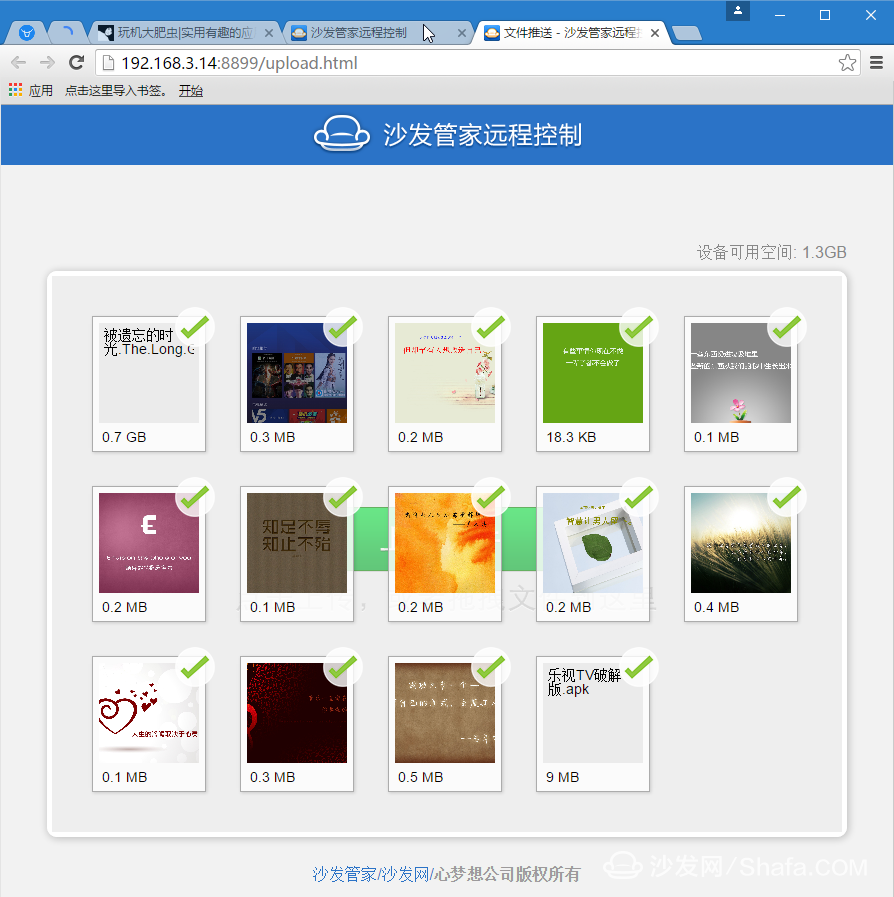 Batch push
No physical restraint, 100 times faster than traditional Bluetooth transmission
Sharing a picture is sometimes a very impromptu thing. The process of using U disk or data cable needs to be plugged in and it is very trivial, and when you can't find a U disk hidden in a corner of your home, it will affect emotions, so I Want to believe that there is no physical constraints, just smart TV and mobile phones or computers can be connected to the same router will be able to transfer files, will be more popular.
The speed of remote transfer of files by the sofa butler is only affected by the transmission speed of the router and the transmission and writing speeds of the smart TVs, mobile phones and computers connected under the same router, and has nothing to do with the size of the broadband bandwidth used in the home.
After big fat insects personally test, in the case of using 5GWIFI router, the transmission speed can be basically stabilized at 16MB per second; also the latest version of Bluetooth 4.0 for wireless transmission, after actual testing, the average speed is only about 160KB per second, 16MB = 1024KB16=16384KB, which means that the remote speed of the sofa butler is more than one hundred times faster than the Bluetooth transmission speed. It takes only 64 seconds to push a 1GB movie from a computer or mobile phone.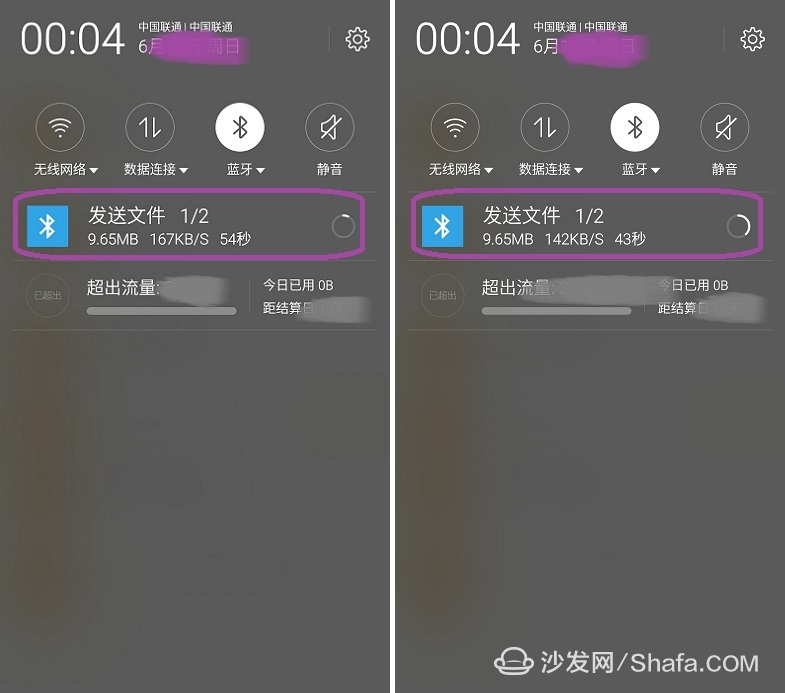 Bluetooth transmission speed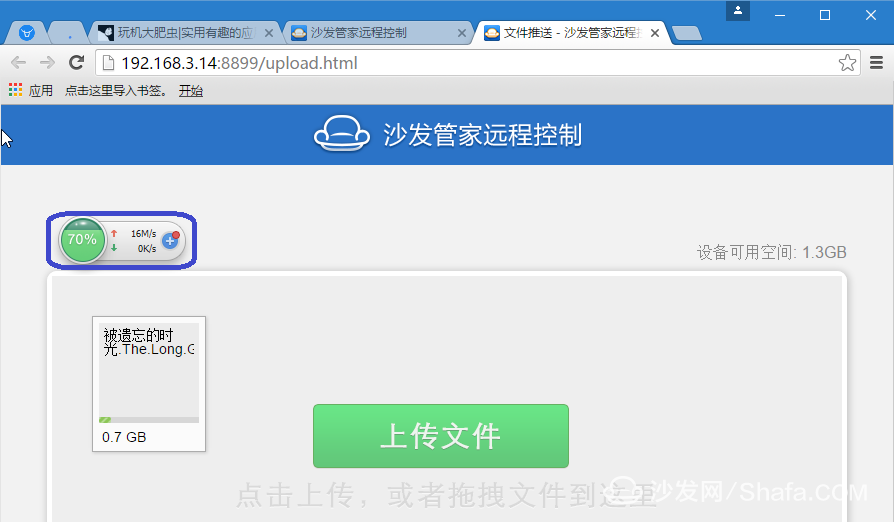 Sofa butler remote push speed
The Big Fatworm transmitted a 700MB documentary "Forgotten Times" to the TV box in less than a minute. After being delivered to the box, the movie will be automatically played through the player that comes with the box, or you can choose to manage your own from the sofa. Downloaded third-party local player to play. In addition to transmitting videos such as some movies, it is actually a good experience to push videos taken on mobile phones for children or other family members to televisions. It is also a good experience for families to watch family videos on TV before sitting in the living room.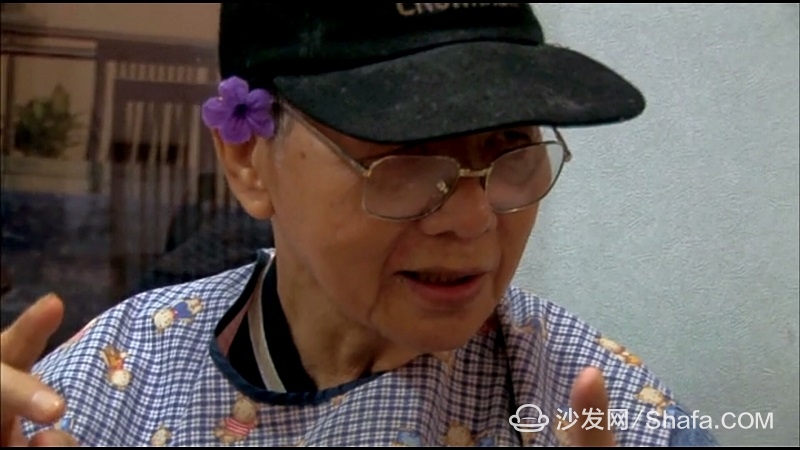 Documentary: Forgotten Times
Sharing pictures can not only be played in a slideshow, but also bring music
In addition to sharing videos, we can also broadcast photos that are usually captured on mobile phones through television. Nowadays, the resolution of a mobile phone camera is tens of millions, so the effect of playing through a 50-inch or even 60-inch TV screen will be very good. In addition, Big Fatty found an egg in the process of remotely pushing the photo by the sofa butler. The photo will be automatically looped in the form of a slideshow, and it also comes with background music! With her dear converts to the sofa, I watched the videos on the TV that flashed through one by one and recorded the images of my life. Listening to soothing music, this feeling was so nice!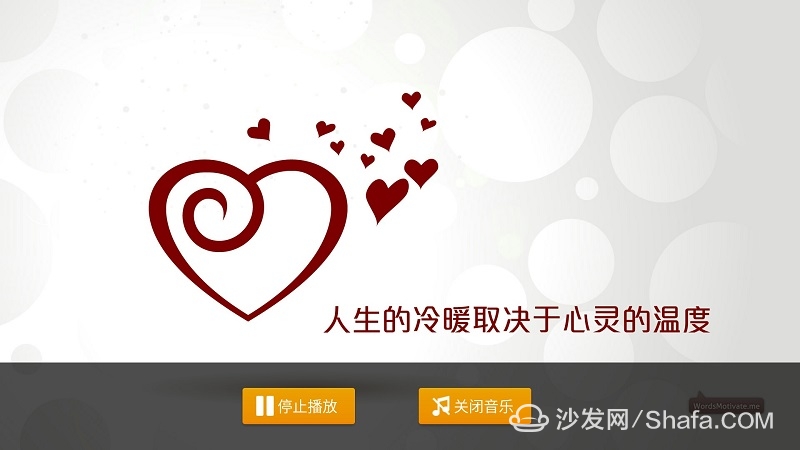 Slideshow with background music
Quickly install smart phone with APK file on your mobile phone or computer. Sometimes friends will share some files for you that are not TV version or APK that is not included in the application market but are very interesting, or some friends will meet the sofa butler online. The failure of the update needs to try to pass the local upgrade problem. In short, when we want to install the APK file on the mobile phone or computer into our smart TV or TV box, the remote control of the sofa butler can not be more convenient. Open the browser. Enter the IP address +8899 of the network connected to the TV or box (or go to the Sofa Manager's Toolbox = Remote Control Options to see the specific ip address). Once opened, it will be delivered in one click and automatically installed.
Several common questions in the remote management function of sofa butler
1, the transmission speed will receive the router's transmission speed, smart TV or TV box receiving speed and disk write speed, mobile phone or computer transmission speed of these three aspects of the impact, so the performance of different devices and connection methods will lead to The difference in transmission speed is very large. In general, the transmission speed of the network cable greater than 5Gwifi is greater than that of 2.4Gwifi.
2. In addition to the remote control function of the sofa butler, downloading the white file manager and ES file browser from the sofa butler also supports this function. Enter this website to search and download: http://app.shafa.com/
3, how can we find the received file? In addition to viewing accepted files at the bottom of the Sofa Butler - Toolbox - Remote Control page, you can also find it in the disk/shafa/upload folder.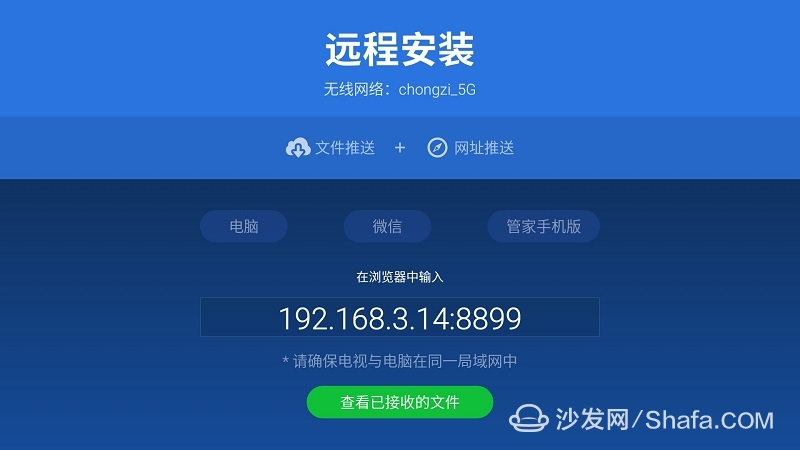 View in Sofa Butler Remote Push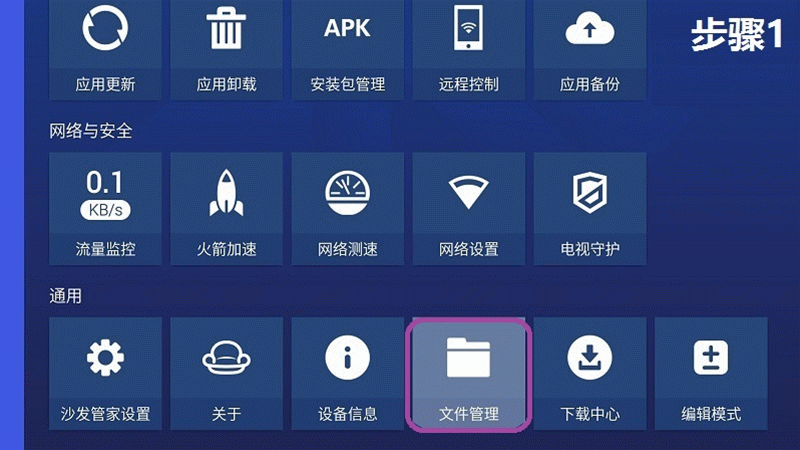 View in disk/shafa/upload folder
Sofa butler is more than just the best TV application market
In everybody's impression, the sofa butler is a TV application market that provides the most application search download. In addition to the conventional application download and installation functions, there are many details in the sofa butler that may not be noticed but are very practical. The function. For example, in the sofa butler you can download the historical version of all applications, when you find that an application is not as good as the old version is easy to use, you can always use the sofa butler to restore to the installed version; for example, want to quickly install after restoring the factory settings Previously used applications have very helpful application backup functions; such as bulk uninstall functions, one-click installation functions, etc., I hope that when the sofa butler provides the most high-quality application download for everyone, it can bring more of your TV life. The convenience and surprises.
LED Furniture Feature:
1. Polyethylene (PE) is a kind of thermoplastic material, not easy to broken, suitable for long time delivery
2. Non toxic, safe for human healthy
3. Rechargeable battery and remote control
4. Multi-colors change & color selection
5. Anti UV & waterproof
6. Adopt the EPISTAR led chip to ensure the color quality and life time
7. Certificate: CE, ROHS, etc
8. Warranty: 1 year
Where to use for :
Bar, nightclub, golf club, disco, KTV, bistro, patio, pub, hotel, restaurant, cafe, coffee shop, tea house, plaza, garden, entertainment park, amusement park, home, villa, swimming pool, wedding, party, events, decoration, design, project, rental/hire,all are with waterproof.
LED Furniture
Glow Furniture,Illuminated Furniture,Led Illuminated Furniture,Illuminated Garden Furniture
KIWA ELECTRONIC (HK) INDUSTRIES CO.,LTD , https://www.kiwahk.com